Campeche Tarpon
Campeche Tarpon is an aquatic recreational company that offers tours of the Los Petenes coastal mangrove biosphere zone in Campeche, Mexico.
We provide year-round panoramic tours and fishing service, adapting our schedule for each client.  We have all the amenities and necessary equipment in our boats for your exciting adventure.
Fishing packages
Included: ground transportation from the airport, accommodations at the lodge, breakfast, lunch, guide service, boat, flies as needed, gasoline and fishing license. 2 anglers per boat.
Excluded: Soupers & Tips.
We offer also package for Non angling activities More Info
Alejandro Hernandez comes from a family of Campeche photographers and musicians. An entrepreneur who for many years ran a photography business representing the Japanese brand Konica in Campeche, Alejandro competed directly with large companies in the Yucatan Peninsula, developing one the most important business of its kind in the city of Campeche, offering high-quality and fast service with its minilabs (35mm film development equipment).
Alejandro also spent much of his time sport fishing in the Biosfera los Petenes National Park. In 1999, encouraged by his friend Alejandro Vega (Mr. Sandfly)—an outfitter on Holbox Island considered to be one of the best saltwater fishermen in the world—Alejandro founded Campeche Tarpon.
He knows Campeche's mangrove coast intimately. His vast knowledge of the area was drawn upon in 2000 when he was asked by the local fishing club to share productive areas in the region for tarpon. The GPS points he provided are now used by sport fishermen, outfitters, and visitors alike.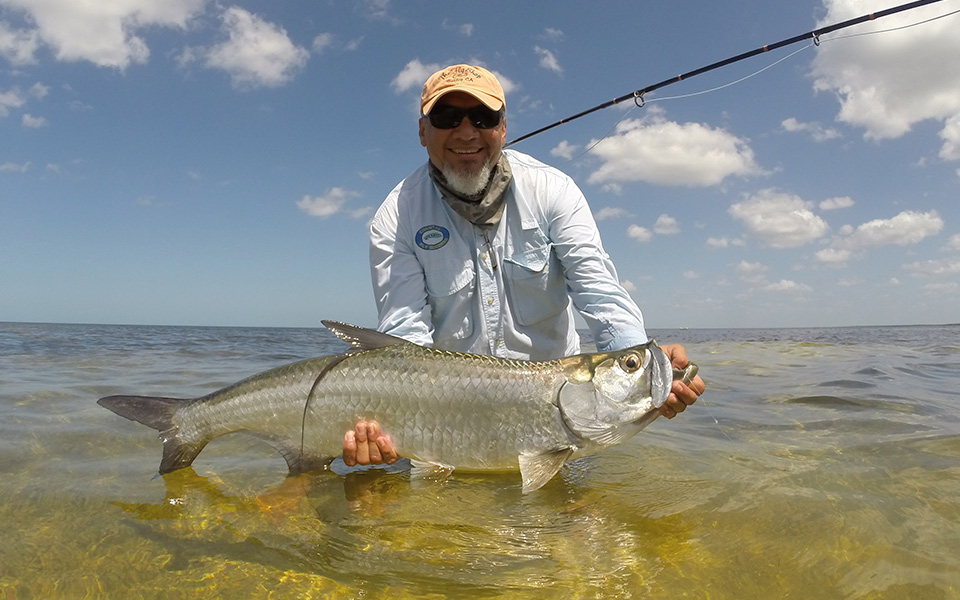 Alejandro got started in sport fishing under the guidance of his grandfather Ramón. The fishing genes seem to have been passed down from his ancester, who is originary from Champoton, home to hunters and fishermen.
After 20 years, following the arrival of digital and smartphone technology, Alejandro closed his photography business to focus full-time on Campeche Tarpon. His passion for flyfishing, his knowledge of the mangroves of the Biosfera los Petenes, and his commitment to customer service have brought him a prestigious clientele, including Prince Charles, Jack Nicklaus, and various diplomats, as well as fishing world personalities from Jose Wejebe to Enrico Puglisi.
In 2001 Alejandro began a collaboration with the largest flyfishing booking company in the United States, Yellow Dog Flyfishing Adventures. The company's founder Jim Klug personally evaluated the area and found Campeche Tarpon to be a high-quality partner for Yellow Dog's clientele.
Alejandro is passionate about fly tying: his flies may not be the prettiest, but fishing with his own flies has always given him a special satisfaction. In 2007, allergies to feathers and animal skins led him to investigate synthetic fiber alternatives. This search resulted in a close relationship with the fly master Enrico Puglisi, who he considers his hermano siciliano.
Between 2001 and 2003, Alejandro participated in various regional tarpon tournaments, twice winning first-place and once winning fourth in the city of Campeche; winning first place on Isla Arena and first and third place in the Challenger Cup. The SBS company, Orvis's distributor in Mexico, awarded him a special prize for having captured the largest tarpon of the tournament by fly fishing. In 2003 he received the Sábalo (TARPON) de Oro prize for having caught the largest tarpon in official competitions. In 2005 Alejandro retired from tournaments in order to support conservation efforts and in opposition to the overfishing of Tarpon.
Alejandro maintains his deep appreciation for tarpon fishing, though his marathon days of 8 to 12 hours of fishing are now closer to 3 or 4 hours. His 18-year-old son Alex Jr. (Pachin), now in his final year of high school, has developed a passion for the family business and spends free time fishing with Alejandro and his clients, little by little writing his own story within Campeche Tarpon.